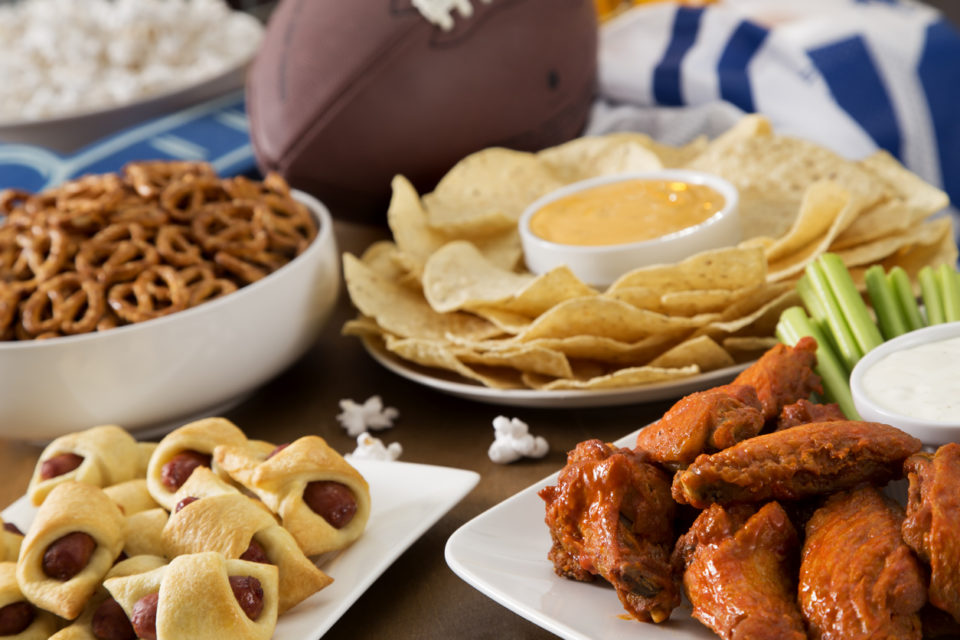 The next time you go tailgating, make sure to bring enough food with you. Check out these recipes that are sure to be a hit with other football fans.
Bacon Bow Tie Crackers
If you want something simple to prepare, try this bacon bow tie crackers recipe. All you need are eight slices of bacon and 24 buttery rectangular crackers. Remember to use thin slices of bacon.
First, preheat your oven to 250 degrees. Then, cut each slice of bacon into three strips. This means you should have 24 strips, one per cracker. Wrap one piece around each cracker. As you do, be sure not to overlap the ends.
Put the bacon-wrapped crackers on a single layer on a baking sheet. Before this, make sure to lightly grease the sheet. Now, you just need to bake the crackers. It should take about an hour and a half. After cooking, let them cool for at least five minutes.
Dry Rub Smoked Wings
Wings are always a great choice for tailgating. As such, this recipe for dry rub smoked wings should be a hit.
Start by making the rub. To do so, mix kosher salt, paprika, cayenne pepper, garlic powder, freshly ground black pepper, and dried oregano. Then, prepare your smoker. You will need to keep the internal temperature at 215 Fahrenheit. Do this for 15-20 minutes before adding the chicken. Next, liberally coat your wings in the dry rub. Smoke your chicken at this heat for one and a half or two hours.
Pull-Apart Pizza Bread
This variation on pizza makes tailgating even more fun and delicious. First, preheat your oven, setting it to 325 degrees. Meanwhile, combine pepperoni, mozzarella, parmesan, oregano, basil, and parsley in a bowl. Take a smaller bowl and mix garlic and onion in it. Then, drizzle the garlic and onion over the cheese mixture.
Next, grab some refrigerated pizza dough and cut each biscuit into quarters. Place the pieces of dough in your cheese mixture. Then, gently toss them, so each piece gets thoroughly coated. Now, grab a Bundt pan and lightly grease it. Put the mixture in the pan. Finally, put it in the oven for about 45 or 50 minutes. You want the top to be golden brown. At this point, a toothpick should come out clean.
You might also like: Don't Forget To Keep Your Tires Rotated
Sweet Potato Fries Buffalo-Style
This is a tasty upgrade on classic fries. Start by preheating your oven to 425 degrees. Now, grab a large baking sheet and toss your fries with salt and rosemary on it. Then, bake your fries for about 45 minutes. You want them to be crispy.
While the fries cook, mix Worcestershire sauce, vinegar, butter, and hot sauce. When ready, take the fries out of the oven. Finally, drizzle the sauce over them along with some ranch. Add blue cheese for the finishing touches.
With these delicious recipes, your next tailgating party will be a hit.
Disclaimer: The stock image is being used for illustrative purposes only, and it is not a direct representation of the business, recipe, or activity listed. Any person depicted in the stock image is a model.