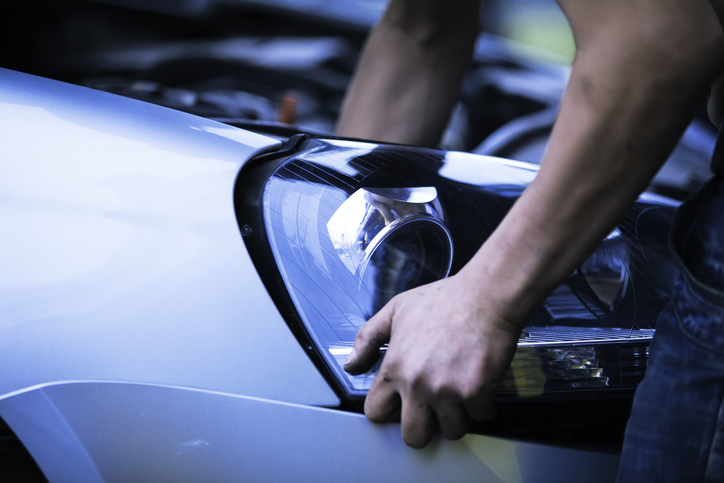 From burned-out bulbs to damaged light housing, a broken headlight is a real driving issue. In addition, driving with a broken headlight can result in an unwelcome stop from law enforcement. For some car repair issues, check in with your mechanic. But for many headlight problems, you can make the fixes yourself. Try this DIY guide for replacing and repairing broken headlights.
Bright Lights
Replacing a burned-out headlight bulb is the most common headlight issue. However, many people put this repair off because they're unsure how to do it. Fortunately, many car manufacturers have made it a simple process. In fact, you can often find step-by-step instructions in the owner's manual. First, check the owner's manual and determine the type of bulb you need. If you don't have the manual, take note of your car's make, model, and year. Then take the old bulb to an auto parts store to ensure you get the correct one.
Changing the Bulb
If you need to replace a headlight, you'll access the light by popping open the hood in most models. In most cars, you'll see the light connections at the back of the headlight casing. Next, disconnect the light and follow your manual's guide for pulling out the casing. In addition, you may need to keep some pliers, gloves, or flat-blade screwdriver handy.
Handle With Care
One of the biggest mistakes people make when changing headlight bulbs is touching the bulb too much. The oils from your fingers can shorten the life of your bulb. No one wants to replace the same bulb over and over. So try to use gloves or a small amount of dielectric grease when installing the new bulb.
When You Need a New Headlight Housing
Sometimes an accident damages the housing. In addition, the headlight housing can get cloudy over time and cause the light to appear dimmer. In some car models, this process is fairly simple. However, it can be more challenging in certain types of vehicles. Again, the owner's manual is an excellent place to start for guidance. Another great resource is to go online and watch how-to videos.
Before you begin, gather all the necessary tools to tackle the job. Finally, confirm your car's make, model, and year and head to the auto parts store for a replacement. One last tip: remember, if you replace one cloudy lens, it's best to replace both simultaneously.
You might also like: Have Dinner At Dock 17
Get Help With Tricky Fixes
Of course, sometimes getting some help with car repairs is best. Fortunately, the service department at James Corlew Chevrolet in Clarksville, Tennessee, is ready to help. They'll quickly fix the issue and get you back on the road. Schedule an appointment today to tackle all your small and large car repair projects.
Disclaimer: The stock image is being used for illustrative purposes only, and it is not a direct representation of the business, recipe, or activity listed. Any person depicted in the stock image is a model.